DOHA, QATAR, JULY 22ND, 2023 Abesq Doha Hotel & Residences managed by IHG Hotels & Resorts opens its doors on unveiling a fusion of Qatari heritage and avant-garde modern design in the heart of Downtown Doha.
Sebastian Thomas, Hotel Manager Abesq Doha Hotel & Residences, said: "It is with great pleasure that we are opening the doors to the wonderful Abesq Doha today, showcasing relaxed hospitality, with the warmest of welcomes and thoughtful touches. Thank you to our dedicated team for their tremendous efforts, talent, and contribution to this launch."
He added, "From staying fit in our state-of-the-art fitness centre or relaxing in our infinity pool overlooking West Bay, you can make it a stay to remember. With its eye-catching modern-day design, the hotel aims to make our guests feel at home, enjoying luxurious comforts and amenities."
Raoul Steinbach, Director of Food & Beverage Abesq Doha Hotel & Residences, commented: "Abesq is home to five dining destinations where our chefs will take guests on a gastronomic journey to discover a world of flavours with the freshest ingredients."
The upscale and elegant Asilah offers exotic and authentic Moroccan fare with mezze, grills, fragrant plates, a julep bar and shisha terrace. The Oat House promises to deliver the most popular dishes 'made better' as it reimagines the World's favourites, focused on wellness and irresistible flavours. Named after August Zang, credited with inventing the croissant, is a historic Viennoiserie, a beautiful specialty boutique of modern Viennoise single origin coffees and delicious patisserie treats. A spritz pool bar called Sprezzi offers bold, raw and authentic fare from the streets of Naples.  Here guests can unwind, rejuvenate and feel refreshed with a swim in the exquisite infinity pool and revel in the panoramic views of Doha's iconic shimmering skyline and the azure waters of the Arabian sea.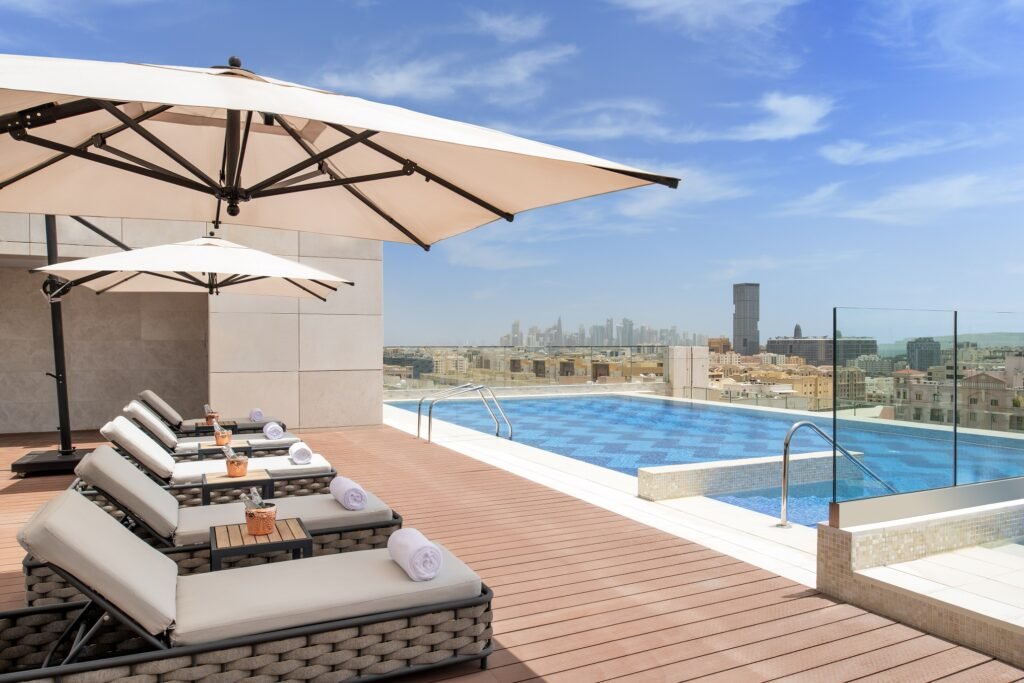 Art inspired by desert tribes
The hotel's remarkable design style and atmosphere imparts a compelling energy, making guests feel special and part of something unique.  Inspired by the crafts of nomadic desert tribes using vibrant woven fabrics and wood lattice they depict vast desert landscapes and sand dunes in earth tones and golden hues – all set under the night sky and stars that guided Bedouins through the ages.
Ideal location to explore Doha
Located in the city centre of Doha, Abesq reflects the vibrant downtown area with its spirited design style, merging creativity with laid back comfort. Stepping into the hotel, a mere stone's throw from the city's major tourist attractions and business district, guests are met with the scents of warm oriental spices and oud, fusing white honey, amber and sandalwood fragrances throughout the public areas.
Lifestyle comforts and amenities
Business partners and guests can experience some of the 283 luxurious guest rooms, spacious suites and stylish serviced apartments with one, two or three bedrooms, all of which feature the very best in lifestyle comforts from fine linens to luxurious bath accessories. 
No detail has been overlooked for quality, comfort and convenience in the rooms, from high quality coffee and teas to yoga mats to kick start the day.  Everything is designed to make guests feel at home; a 24-hour front desk with complimentary coffee on offer in the lobby, housekeeping services on tap with same day dry cleaning, valet service and secure parking. 
Guests can enjoy the convenience of a Chrome cast, allowing them to mirror their phone screens directly onto the room's smart TV and guests can also access to PressReader, a digital newsstand that provides access to all major international newspapers and magazines.
Fitness and wellness top of mind
Opening in the summer, Abesq's beautiful signature spa will graciously pamper those seeking to restore balance with its spa ritual, Turkish hammam and 5 massage rooms. Apart from a 24-hour gym with the latest TechnoGym equipment, guests can also enjoy a refreshing dip in the hotel's outdoor pool or indulge in private classes with a sports trainer and aerobics instructor to boost fitness and well-being.
Meetings and celebrations
The hotel's six meeting rooms and ballroom are superbly designed to suit guests wanting to celebrate any occasion in style.  These are also perfect for holding medium-sized weddings, social events or business meetings. The striking spaces provide the ideal backdrop for any event, whether it be a grand celebration or intimate gathering with close friends and family or meeting with colleagues.
Opening in the holy month of Ramadan carries a special meaning and Abesq will be hosting Iftar and Suhour feasts with carefully crafted set menus in Asilah, the hotel's elegant and contemporary Moroccan restaurant.
Abesq is offering an attractive opening offer, featuring a 25% off on the best available rate and the convenience of 24-hour check-in and check-out. In addition, guests can savor a delightful 20% off on all dining options within the hotel.
Part of IHG Hotels & Resorts portfolio, Abesq Doha Hotel & Residences officially welcomes guests  since 5th of June 2023.
Media contacts:
IHG Hotels & Resorts [LON:IHG, NYSE:IHG (ADRs)] is a global hospitality company, with a purpose to provide True Hospitality for Good.
With a family of 18 hotel brands and IHG One Rewards, one of the world's largest hotel loyalty programmes, IHG has over 6,000 open hotels in over 100 countries, and more than 1,900 in the development pipeline.
InterContinental Hotels Group PLC is the Group's holding company and is incorporated and registered in England and Wales. Approximately 345,000 people work across IHG's hotels and corporate offices globally.
Visit us online for more about our hotels and reservations and IHG One Rewards. To download the new IHG One Rewards app, visit the Apple App or Google Play stores.
For our latest news, visit our Newsroom and follow us on LinkedIn, Facebook and Twitter.