The Alwadi Hotel MGallery's Souq Suite is the ultimate private escape
Doha, Qatar – xx August,2021: Seamlessly blending Qatari hospitality with high-end luxury, Alwadi Hotel MGallery's Souq Suite is the perfect place to escape the heat this Summer.
With soaring views of Doha's iconic skyline as well as the cultural heart of the city, Souq Waqif, the 71 square meter Souq Suite is the ultimate private hideaway for you and your family.
The Souq Suite comes with a separate living area and can be interconnected to other rooms, which makes it ideal for families, as well as a lavishly appointed bathroom, and king-size MyBed™ will guarantee cocoon-like comfort and peaceful night's sleep.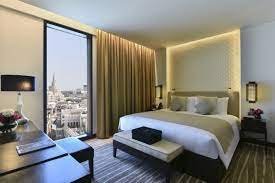 Within the suite, traditional Qatari and Arabic-inspired features can be seen everywhere here, including the inspired décor that takes inspiration from the desert sand and dunes color schemes and the plush yet understated furnishings.
Rounding out the luxurious experience, the hotel has four popular restaurants and lounges on-site, a rooftop pool area, and their award-winning, luxurious MSpa.
Alwadi Hotel MGallery General Manager Mr. Hani Akkari said the Souq Suite elevates a guest's stay to "another level."
"The Souq Suite is perfect for a staycation or guests visiting Doha – it offers the best of both worlds in terms of luxury and proximity to one of the most vibrant and exciting parts of Doha," Mr. Akkari said. "All of the Souq Suites have terraces that overlook Souq Waqif, which comes alive each night so you can feel immersed in the culture and history of the area – you can almost smell the spices from the Spice Souq on your private terrace!
"And of course, combined with the renowned Alwadi Hotel MGallery bespoke, personalized service and our attention to detail – from the moment you enter our hotel, we go above and beyond to ensure each and every guest has a stay filled with memorable moments."
Plan your next escapade with us before September 15, 2021, and enjoy double Reward points on stays and dining experience at Alwadi Hotel Doha MGallery Hotel Collection.
For more information or to make a reservation, please call +974 4009 9999 or WhatsApp +974 3075 8211