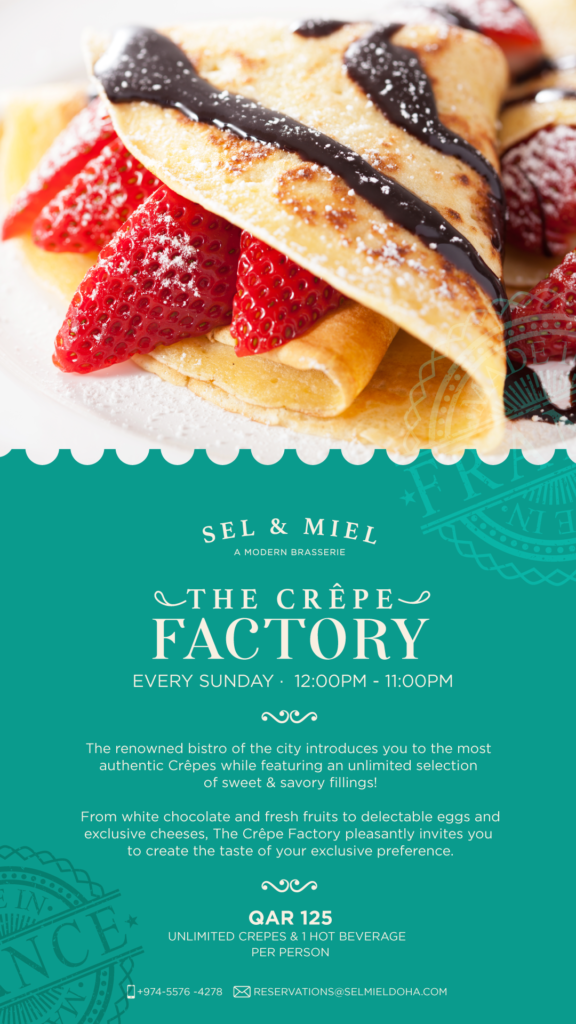 Doha, Qatar – January 5th, 2021: A pioneer when it comes to innovative cuisine and exciting dining options, The Ritz-Carlton, Doha, is launching its new initiative, The Crêpe Factory, on Sunday, 9 January 2022. Designed to bring an enticing and original concept to Sel & Miel's established brasserie offering, guests will get the opportunity to savor the finest crêpe creations.
Each Sunday from 12pm to 11pm Sel & Miel aficionados can enjoy an unlimited supply of freshly cooked crêpes, both sweet and savory for 125QAR/person accompanied by the hot beverage of their exclusive preference. An authentic menu selection, including exclusive cheeses, delicious sauces, fresh fruits and more will be served at the table for diners to pick and choose their favorite flavors.
The Crêpe Factory will showcase the talented teams' distinctive skills as authentic French crêpes are paired with a range of ingenious ingredients to create the perfect taste moment.
Sel & Miel's beautiful garden is an ideal al fresco venue for families and friends to gather and enjoy excellent food. As the latest concept, The Crêpe Factory brings an exciting alternative to The Ritz-Carlton's eclectic mix of gastronomic choices, underlining its reputation as Qatar's premier dining destination.
For more information on The Ritz-Carlton, Doha please call +974 4484 8000, WhatsApp +974 5599 0916 or visit www.ritzcarlton.com/doha.