Doha, Qatar – February 2022 – Set by the West Bay and the sparkling blue waters of the Arabian Gulf, Sheraton Grand Doha Resort & Convention Hotel has earned its place through time as an iconic destination and established a long-lasting relationship with several generations of Qatar. This cultural symbol returns to its former glory, featuring extraordinary 1980s architecture highlighting the region's exquisite designs while catering to the needs of modern social travelers.
Over the years, Sheraton Grand Doha has become a crossroads of cultures, a vessel where past, present, and future meet, and now with the coming 40th anniversary- the place where the world comes together, carrying the heritage of glorious 40 years in minds, hearts, and memories.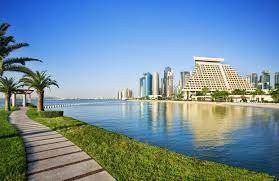 Sheraton Grand Doha released a unique logo designed for the 40th anniversary focused on the community and shared history and embraced the wording of "40 years together" – telling the story of 40 years of unforgettable memories.
For this special occasion, several special staycation and F&B offers to await the guests to share the celebration vibes with its visitors;
`Celebrating 40 years with you` staycation package offers 40% off any suite categories, breakfast at Al Hubara for 2 & 2 kids up to 12 years old, a special 40th-anniversary in-room amenities and complimentary pool access – to be used within two months period. To book the offer, please call at +974 4485 4444
`Nostalgic Friday Brunch` will be served at Al Hubara, Sheraton Grand Doha`s well known all day dining restaurant on 18th and 25th February
Signature `Sheraton Umm Ali` will be only QR 40 at Atrium & Cake Shop on Feb 22nd to mark the celebration of 40th anniversary. Sweet lovers will avail `Desert of the week` at QAR40 at Atrium between 19th – 25th February 2022.
In line with the 40th Anniversary celebrations, multiple campaigns and collaborations will be announced throughout the year, such as an `Archival Photography Exhibition` at the Atrium Lounge, Panel Discussion in the hotel, which will be moderated by well-known Qatari architect Fatma Ibrahim Al Sehlawi, an `Open call` for creative minds to present unique designs inspired by Sheraton Grand Doha and more. Stay tuned on Sheraton Grand Doha's Instagram account for up-to-date announcements via @Sheratongranddoha.
Belal Al-Kadry, General Manager of Sheraton Grand Doha says, "Sheraton Doha is not simply just a hotel – it is a milestone in Qatar's history and a popular landmark with its impressive style, opulent décor, and rich hospitality. This year marks our 40th anniversary and with the mission of being the ambassadors of Qatar hospitality, we will continue to be the destination for the most beautiful memories for many decades to come."