House of Bazaar
Karen Wazen, Cedric Haddad and the iconic Maya Diab set to appear at House of Bazaar at Mall of Qatar
Doha, Qatar, May 2022: Mall of Qatar and Harper's Bazaar magazine announce a stellar line up for the inaugural House of Bazaar, running from Wednesday 11th to Friday 13th this week. The three-day celebration of fashion, beauty, and lifestyle, which showcases Mall of Qatar's most exciting and luxury retailers across fashion, beauty, and home interiors, will feature some of the region's best loved personalities as well as a selection of Qatar's leading industry voices.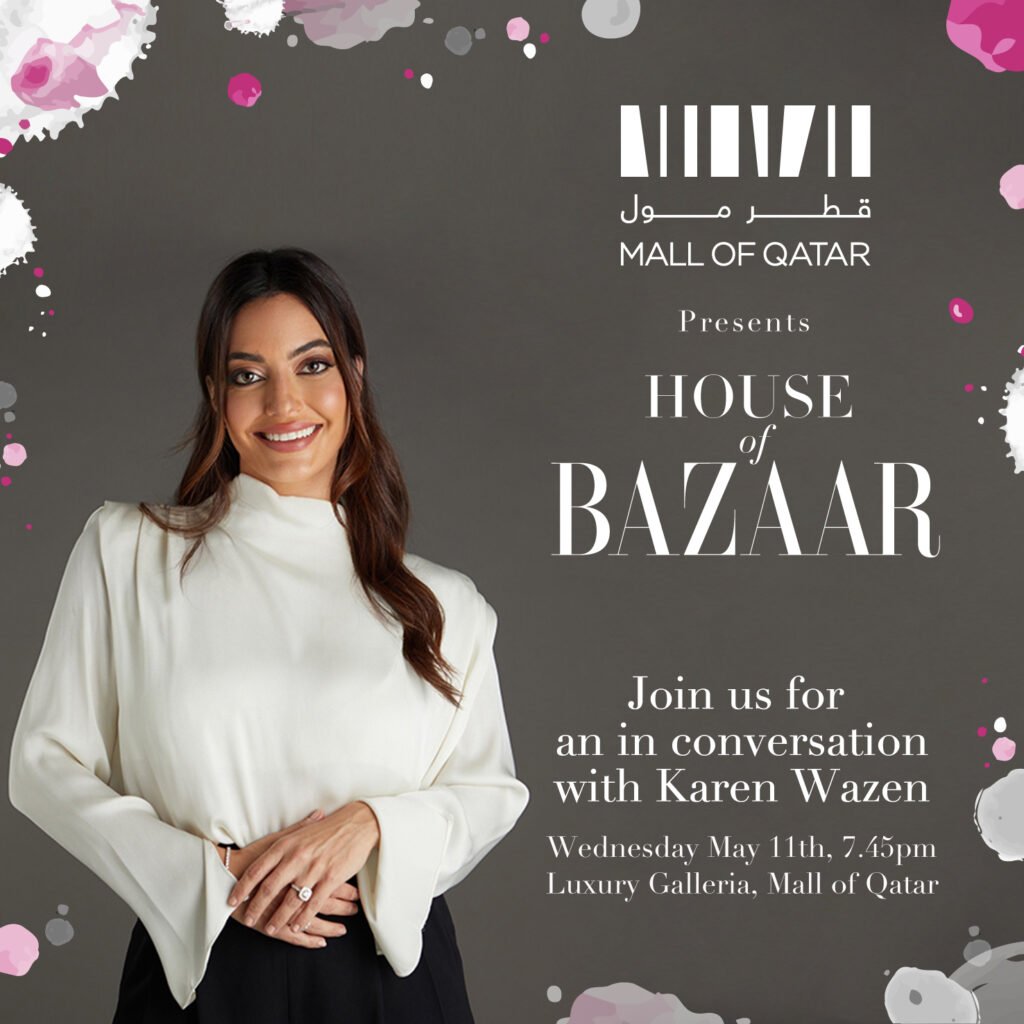 The highly anticipated opening event, due to be held on Wednesday 11th at the Luxury Galleria at Mall of Qatar, will feature an in conversation with international trend-setter and entrepreneur Karen Wazen, who is credited as redefining the concept of the modern working mother. By sharing her life with an intimacy that reflects her style and personality, Karen has amassed millions of followers on Instagram, appeared on magazine covers and now runs her own eyewear company.
On Thursday 12th, audiences will have the opportunity to watch a live masterclass hosted by leading celebrity stylist Cedric Haddad. The Founder of #StyledByCed, Cedric Haddad is a personal and celebrity stylist for key figures in the Middle East and internationally. His work has spanned magazine covers, major red carpets, blockbuster music videos, luxury advertising campaigns, editorial shoots, and some of the biggest TV shows in the region.
To cap off the evening, legendary singer, TV personality, entertainer and fashion icon Maya Diab will join Harper's Bazaar Publisher Bianca Brigitte Bonomi for an in conversation on stage. Epitomising feminine beauty and glamour, the multitalented Maya Diab's has achieved superstar status and joins House of Bazaar as guest of honour to discuss her exceptional career.
The engaging and immersive House of Bazaar experience will also shine a spotlight on some of Qatar's and the region's most exciting talent including: Stylists Reina Bouchakra, Fatema Al Surour; Image Consultant Elisabete Reis; Designers TIIYA, Fahad Al Obaidly, Fatima Asad, Rina Saleh, Fatima Alqaedi, Rabab Abdulla, and Sonali Raman; Chair of Fashion Design at VCU, Christopher Fink; Beauty experts Afra Al Marri and Ajiad Al Rashid; Al Kass Sports' Anchor Amira Al Jaziri; Interior experts Nesrine Mahjoob and Hanna Yacoub; leading sportswoman Mariam Farid; Jewellery designers Kaltham Al Majed and Noora Al Ansari; alongside Bazaar's Nour Bou Ezz, Narges Raiss, Kim Wyatt, and leading international stylist and Bazaar Fashion Director Anna Castan.
With its contemporary design and luxe furnishings, the House of Bazaar is the perfect space to showcase Mall of Qatar's must-have styles, key new trends, and luxury offerings from retailers. Guests will be invited to meet and mingle in the House's Garden, explore the Styling Suite and relax in the Beauty Boudoir. Through a dedicated programme of expert-led panel discussions, engaging masterclasses, gorgeously curated trunk shows, and catwalks, the Spring / Summer 2022 collections will come to life. The full daily programme can be viewed on Instagram @mallofqatar and @harpersbazaarqatar.