Doha, Qatar; Monday, 7 November 2022
Qatar Airways and Qatar Tourism in association with Alchemy Project are delighted to announce that
Robbie Williams sets a stellar performance at the World Stage on 8 December 2022 in Doha, Qatar.
Robbie Williams, the pop megastar, with over 85 million albums sold around the world, released the
album XXV on September 2022, which marks the fact – remarkable, improbable, indisputable – that it is
now over twenty-five years since Robbie Williams tumbled out of the boy band Take That into a solo
career that no one, not even him, could yet quite imagine.
Robbie William's concert is one of the six unforgettable series of global superstar performances on the
World Stage located in Doha Golf Club. Early bird offer starts from $99 and available on TixBox.com now.
World Stage is brought to you by Qatar Airways and Qatar Tourism, sponsored by Ooredoo, Coca-Cola,
Qatar Duty Free, and organized by Alchemy Project under Qatar Live 2022 series of events.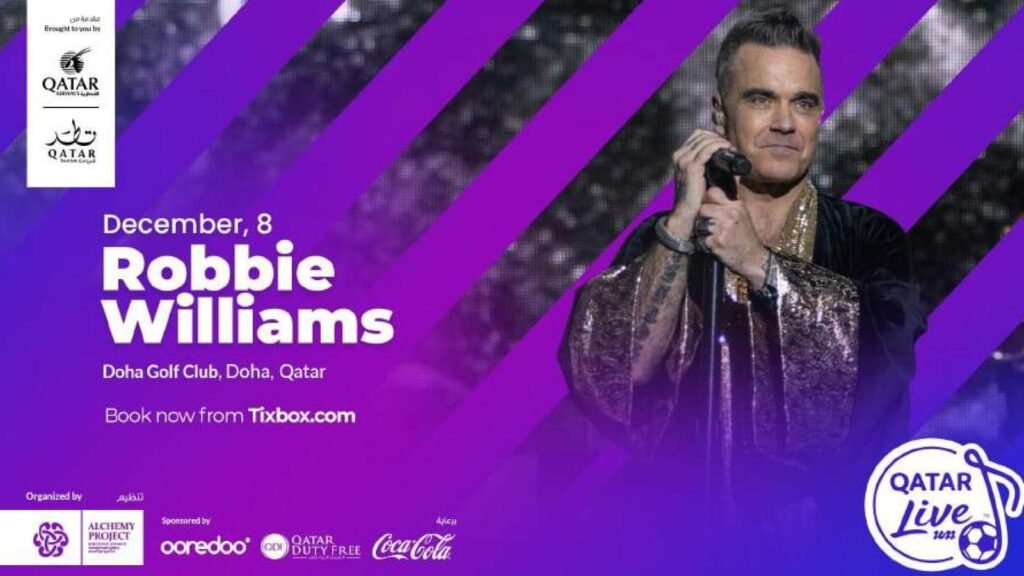 The September 2022 release of the album XXV marks the fact – remarkable, improbable,
indisputable – that it is now over twenty-five years since Robbie Williams tumbled out of the boy band
Take That into a solo career that no one, not even him, could yet quite imagine. What has happened
since then…well, part of the story can be told through the swagger of sales and statistics: over 85 million
albums sold around the world; thirteen UK number one albums (the most for any solo artist, equalled
only by Elvis Presley); fourteen number one singles; the most concert tickets sold in a day (1.6 million
on November 19, 2005); the record-breaking three nights at Knebworth to 375,000 people in 2003; the
parallel grand successes of his swing albums and of a reconvened Take That (upon release in 2010, the
Progress album became the fastest selling album of the twenty-first century, and the subsequent tour
was the biggest-selling British tour ever); an unprecedented and unmatched 18 Brit awards; the
Christmas album, the X-Factor judging, the Royal Shakespeare Company musical The Boy In The Dress,
Soccer Aid, numerous collaborations in music, art, radio, books, fashion, TV and film, and on and on and
on.
But that's only a small part of the whole wild journey, one on which XXV offers a fresh and
illuminating perspective. Here are songs from across these twenty-five years – the oldest, "Angels",
emerging from only his second writing session with Guy Chambers at Chambers' North London flat; the
newest, "Lost", emerging unexpectedly out of the ether one evening in Wiltshire last November. Aside
from the most recent of them, these are songs that are now being revisited. Or, as Robbie might more
precisely phrase it, "re-worked, re-imagined, and re-loved."